Outdoor LED video wall for sale!
Installation and maintenance worldwide.
LED video wall (media faсade) is a LED screen, installed into the building faсade to broadcast huge images that can be seen from a great distance. Media facades are designed for continuous operation, often 24/7. This determines their basic requirement: reliability, dust and moisture protection, wide operating temperature range, ease of maintenance in case of faulty elements.
Types of media facades
Media facade type depends on screen size, audience distance or facade design.
Rack
Cluster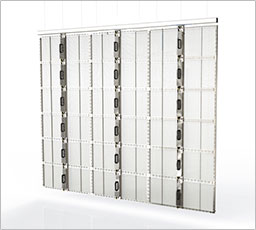 Transparent
Rack media facades
Rack media facade consists of cabinets with aluminum casing and mounted LEDs packed in pixels. Profiles can be placed both horizontally and vertically. This arrangement reduces the weight of LED screens and provides transparency of the structure.
Live image can be clearly seen not only in dark, but on a sunny day as well due to its brightness.
Make request right now
And our manager will calculate several options of LED media facades for your project
Cluster media facades
Cluster media facades is a structure consisting of pixel elements (clusters with the LEDs inside), which are mounted by cables on the building's facade. Connecting together, from a distance they look like a video screen. This allows you to mount media facades on complex surfaces of any shape and size.
The cluster type is used for large media facades and designed for audience located at a great distance, because the pixel pitch must be at least 100 mm.
Why we guarantee the cost reduction?
You will receive led screen directly from the manufacturer at the price of 15% below the market price
We are the official dealer for 20 led screen factories in china
The projects get implemented within 45-80 days
Design takes 7 days, factory production - 10 days, delivery from 25 days, installation - 3 days
You will save your financial and production resources
We work with an architectural design bureau, so our solutions include modern technological achievements
On all phases you will receive the necessary support
We provide a full warrantee (5 years) and post-warantee maintenance. Furthermore, we provide a free spta set
Trust the professionals!
We choose several LED screens models from different factories that are optimal for your project.